Africa Day 2022 Celebrated at Launch of Transpire Global Director Network's Africa Faculty
Africa Day in the City of London
A fine and ever so slightly damp London day bore witness to a joyful celebration of Africa Day right in the heart of the City of London, just a stroll away from the fabulous feat of engineering that is the brand-new Elizabeth Line at Liverpool Street.
Event Hosts
The event, hosted by Tony Stubbs FCA, FRSA, Leader of the Transpire Global Director Network and Mireille Karera, PCC, Executive Chairwoman at Kora Coaching & Business, and Chaired by Charlie Helps FRSA, was a hybrid online- in-person feat of technological juggling for which we are grateful to the ICAEW for the use of their wonderful auditorium and facilities at Number One Moorgate Place.
As Lead for the forthcoming Transpire Health Faculty, it was a unique opportunity and pleasure as Master of Ceremonies to Chair the evening's proceedings and Direrector Panel.
Global Director Network
Transpire is a global professional network for existing and aspiring board members who want to build successful, purposeful, and sustainable board careers.
The Transpire Global Africa Faculty
Following opening remarks and a welcome from Tony Stubbs setting out the concepts of Awareness, Understanding, and Opportunity in the context of successful directors, Mireille introduced the new Africa Faculty and gave an illuminating description of the Leadership Across Boarders (LAB) Programme.
Mireille's Africa Faculty will host thought leadership forums at which Transpire Members will hear from leading directors about current issues and opportunities facing businesses and will receive practical guidance on how these issues and opportunities are being addressed.
The Faculty will also facilitate mentoring opportunities for Transpire members to not only give back and mentor someone on the African continent, but also to have a reciprocal mentoring opportunity and perhaps to join the board of one of the continent's exciting growth companies.
More details on the LAB Programme are available here.
It was a great pleasure to Chair the "Leading Directors Panel" which discussed topics of current importance to making a success of business in Africa, including:
Landscaping African Finance
Leadership Across Borders Mentoring
Africa Market Entry and Business Culture
Click on the image to see the panellists' details.
A highlights video of the Panel discussion will be available shortly.
Keynote from the Rwandan High Commission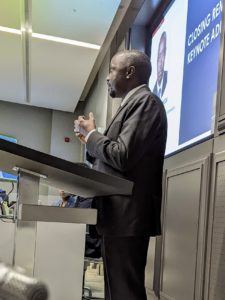 The evening's formal proceedings were topped-off with a frank and insightful keynote speech by Mr Joseph Kabakeza, First Counsellor to the Rwandan High Commission.
An accomplished academic and polished diplomat, Mr Kabakeza launched us straight into a vivid account of how to go about raising trust towards the aims of leadership, development, investment, opportunity, and ultimately freedom.
Mr Kabakeza left us with the simple, yet powerful lesson in leadership: "clean your own house before you ask others to clean theirs.
Interestingly, he also asserted that politics and business are inextricably linked, and one cannot talk about the other in isolation. His point was, business leaders must have clean houses, as do politicians if they are to govern successfully. It was a topical subject at a poignant moment—just hours before the release of the "Sue Gray Report" in London.
Naturally, Mr Kabakesa's points were all rooted in established leadership, governance, and management lore, theory, and code—but his metaphor and delivery were entirely his own.
Transpire Global Director Network Africa Day Cocktail Reception
The event was complete with a convivial cocktail reception and networking, and a special treat of chocolate and coffee produced in Africa by Mireille's companies AFRIKOA Chocolate and Bourbon Coffee.
We highly recommend Bob Garratt's book The Fish Rots From the Head to all Board directors.
Buy "The Fish Rots From the Head: The Crisis in our Boardrooms: Developing the Crucial Skills of the Competent Director" on Amazon in paperback or Kindle here ⇒
If you'd like to find out more about how to get the best from your Board, get in touch and I will introduce you to the right people.